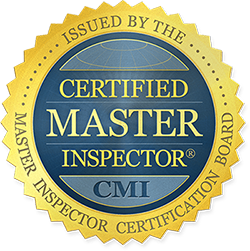 I am a Certified Master Inspector®, have completed more than 1,000 inspections and/or hours of Continuing Education, have been in business for more than three years, abide by the Master Inspector Certification Board's strict Code of Ethics, and have agreed to a criminal background check.
I am listed as a Certified Master Inspector® by the Master Inspector Certification Board at www.CertifiedMasterInspector.org

---
Reports
What is covered in the Inspection?
Central Heating System
Central Cooling System
Interior Electrical System
Interior Plumbing System
Condition of Roof
Walls, Ceilings, and Floors
Windows and Door
Foundations, Basements, Crawlspaces, and Slab Structure
Water Penetration
Insulation
Exterior Siding
Attics
Grading and Retaining Walls
Radon Inspection
Your Inspection Report
A computer generated "state-of-the-art" report will be sent to you and your attorney by mail, email or fax 24 to 48 hours after the inspection. The report will describe the home in detail, itemize all discovered defects, and note necessary repairs and recommendations.
To view a sample Inspection Report, please click here [PDF]
Additional Information
Radon is a dangerous radioactive gas created by decaying ground matter and is also the second leading cause of lung cancer in the U.S. today. It is vital to inspect and check Radon levels to ensure the safety and health of loved ones in the home.
For more information on Radon, please click here [PDF]
Certifications
Official InterNACHI Education Transcript for Gregory Ragona

Required Courses

CE

25 Standards Every Inspector Should Know
5
Attic, Insulation, Ventilation and Interior
14
Customer Service and Communication
4
Deck Inspections
3
How to Inspect for Moisture Intrusion
8
How to Inspect the Exterior
16
How to Perform Residential Electrical Inspections
4
Inspecting HVAC Systems
12
Introduction to InterNACHI's Residential SOP
3
Residential Plumbing Overview
8
Roof Inspection
4
Safe Practices for the Home Inspector
4
Structural Issues for Home Inspectors
4
Radon Measurement Service Provider
16
Mold Inspection
–
Key:
CE = Credit Hours


= Course Completed
Transcript provided by InterNACHI, the home inspector organization
Officer Greg Ragona, CMI
NJ Licensed Inspector # 24GI00111000
Call: (732) 492-9831
InterNACHI Member – NACHI11062409
NJ-ALPHI Member
Licensed NJ DEP Radon Measurement Tech # MET12984